Slideshow of the award winning images from the 2019 Exhibition

The East Anglian Federation (EAF) of Photographic Societies was founded in 1910 and has thus been in existence for over 100 years. The EAF is a constituent founder Member of the Photographic Alliance of Great Britain (PAGB), which is the parent organisation for camera clubs and photographic societies throughout the UK. Having 117 member clubs and societies with in excess of 4000 individual members, the EAF is now the largest federation in the PAGB covering the area of Bedfordshire, Cambridgeshire, Essex, Norfolk, Suffolk and that part of Hertfordshire which lies to the east of the M1 motorway. Following the closure of the Central Federation in 1989 a number of North and East London clubs were welcomed into the East Anglian Federation.
Sponsored Links
If you are looking for maps, booking forms or application forms then please visit our
‍Downloads Page
Latest News
PAGB Awards for Photographic Merit
At last, after a two-year postponement, it was great to meet up again (Covid - compliant of course) after the last event held at Watford in 2019.  How nice it was to see people in reality rather than on a monitor at home and see they had bodies as well as heads and shoulders! The event was held at the Coombeshead Academy in Newton Abbott, Devon, hosted by the Western Counties Photographic Federation who were very well organised and everything ran smoothly.
‍
It was quite a journey for those of us travelling from East Anglia, but I am pleased to say that several EAF applicants made their way down there and the successful ones were able to have their badge presented to them by the PAGB President, Roger Parry, ARPS, MPAGB, Hon.PAGB, EFIAP. We originally had 17 applications over two categories (there was no Masters adjudication this time), but unfortunately 3 withdrew at a very late stage.

From those remaining 8 were successful, as follows:
‍
‍Credit Prints – Stephen De Havilland CPAGB from Melbourn & DPC, Desmond King ARPS, CPAGB from Buxton PC and Judith Wells CPAGB, from North Norfolk PS.
‍
‍Credit PDI – Diane Le Count CPAGB from Bishops Stortford CC,  Roger Bradshaw CPAGB, BPE3* from Biggleswade & DCC, Carole Harvey CPAGB, BPE1* from Rushton & DPS and Jo-Anne Kelly CPAGB, BPE3* QPSA from March CC.
‍
‍Distinction Prints – June Sparham DPAGB from Welwyn Garden City PC.
‍
‍Distinction PDI – Gillian Steyn DPAGB, BPE3* PPSA from the Photographic Imaging Co-operative (PICO).

Our sincere congratulations go to them all and commiserations to those who were unsuccessful, but please don't give up - try again. For those who were successful, I hope to have their certificates before the AGM on 13th February. The books are open for the April Adjudication which is due to take place over the weekend of 23rd/24th April 2022, hosted by the MCPF at the Hillscourt Education Centre, Rose Hill, Rednall, Birmingham. More details will follow later.

A date for your diary: we are planning to hold a 'live' APM Advisory Day on Sunday, 4th_September 2022. Please see the advance poster in the December Bulletin and on the Federation website. Further information and application forms will be online in early February 2022.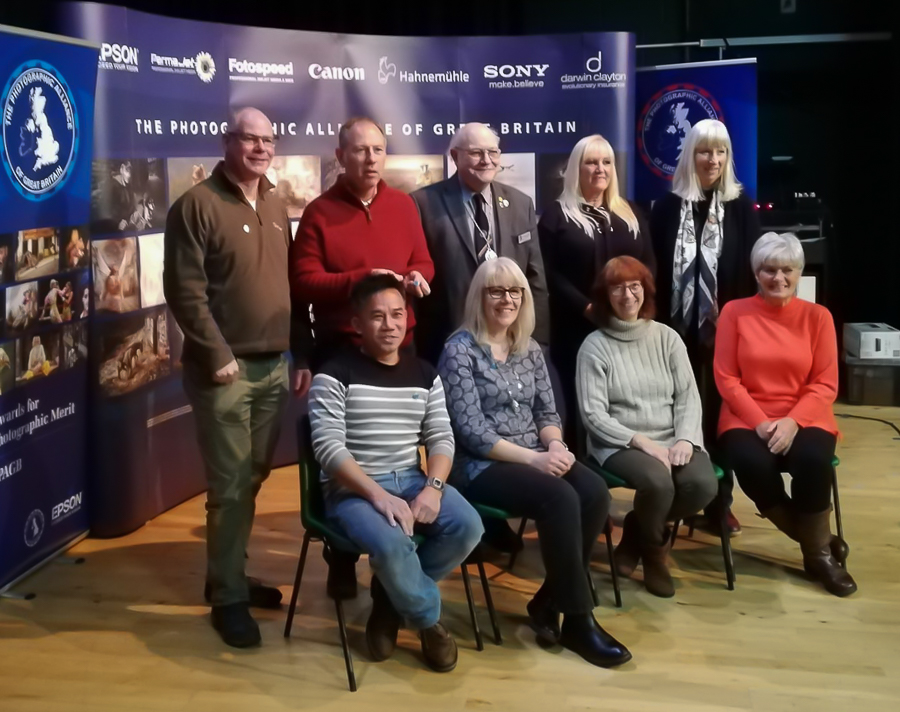 Successful CPAGB Applicants: Stephen De Havilland from Melbourn & DPC is first left on the back row. PAGB President, Roger Parry is in the centre of the back row.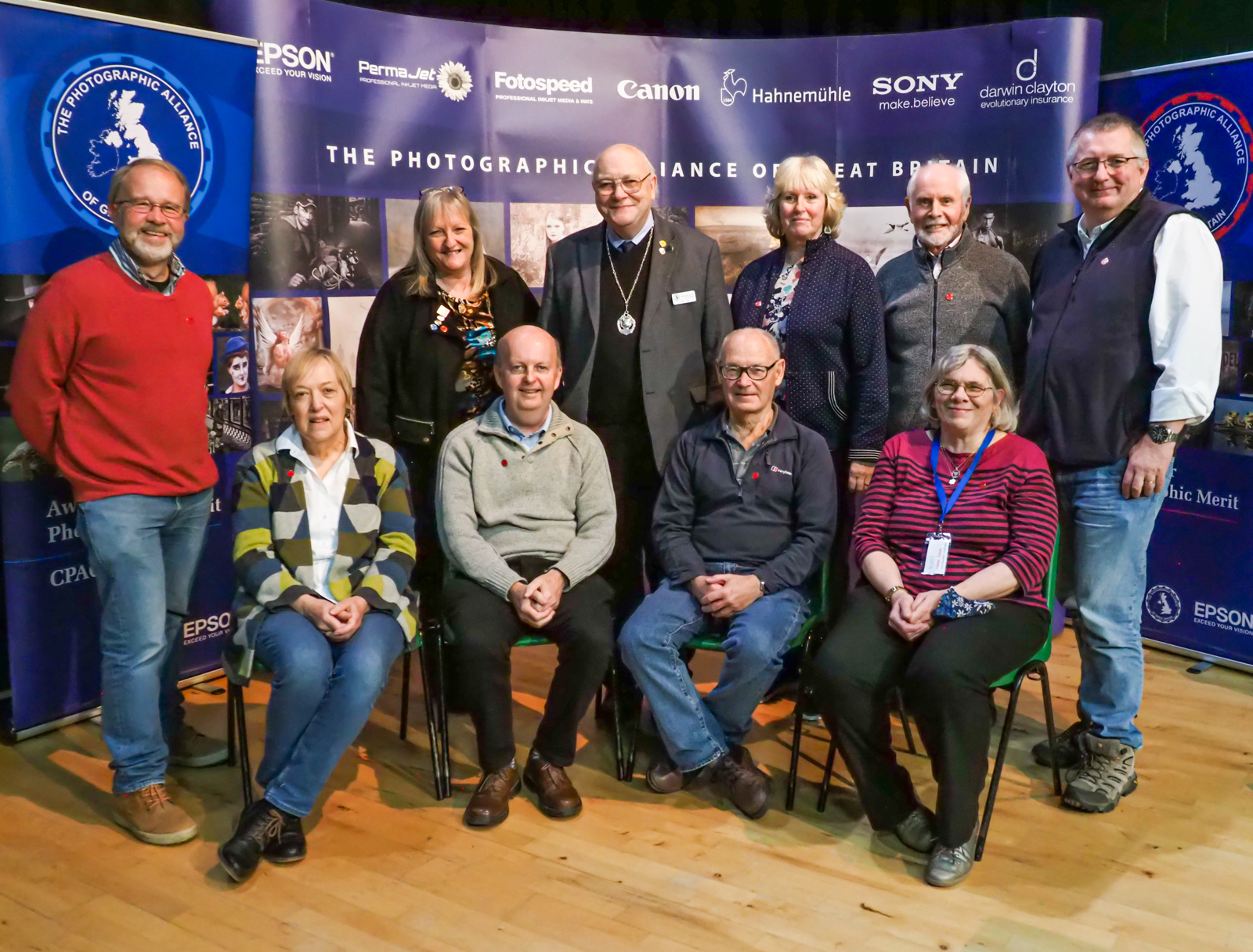 Successful DPAGB Apllicants: Gillian Steyn from the Photographic Imaging Co-operative (PICO) is second from left on the back row next to Roger Parry, PAGB President
Vic Hainsworth, ARPS, DPAGB.
Federation Awards Secretary.
EAF Subscriptions & Insurance 2022
The following documents are now available for download on the Downloadable Documents page
‍
Subscriptions & Insurance Information Document
Annual Federation Subscription Form
General Data Protection Regulations (GDPR) Form
‍
There is more information on insurance requirements and options on the Insurance webpage,
Click HERE to visit the page.
2022 EAF Exhibition
The following documents are now available for download on the Downloadable Documents page
PDF Documents
Exhibition Information Document
Exhibition Rules
Collectors List
Exhibition Poster
PDF & Word Documents
Entry Form - Colour Prints
Entry Form - Monochrome Prints
Entry Form - Digital Images
Entry Fees Form
2022 EAF Championships
The following documents are now available for download on the Downloadable Documents page
PDF Documents
Invitation to all Clubs
Championship Rules
Championship Advert
Word Documents
Club PDI and Print Entry Forms
PDI & Print Titles lists
Application Forms for the PDI & Print Championships Tickets
‍
EAF Data Protection Policy - September 2021
The updated EAF Data Protection Policy document is available on the Downloadable Documents page.
EAF Bulletin
The latest issue of the EAF Bulletin (September 2021) is now available.
This issue is digital only in PDF format.
Click on the cover image below to get your copy.
(Previous issues are available on the Bulletin page)


"Light at the End of the Tunnel"
A document, from our President has been sent to all Club Secretaries with information about "Hybrid Meetings" and the "Use of Social Media". A copy of the doocument is available HERE.
‍
This has resulted in two new pages on this website within the main menu "Information" dropdown list.
‍
The "hybrid meetings" page gives details of one clubs (Chelmsford CC) implementation of hybrid meetings.
‍
The "social-media-use" page gives information on the potential use of Social Media by Camera Clubs.
Remote Judging and Lecturing: Updated List May 2021
If you are trying to set up Club activities while physical meetings are not possible, here is a list of EAF judges and lecturers who are prepared to judge and/or lecture remotely.
‍
Click HERE for your copy of the list.
Photographic Alliance of Great Britain
Awards for Photographic Merit
Due to the current Pandemic the PAGB/APM team are unable to run the usual live Advisory Days, which have been well received by those attending in the past. However, the APM team have set up on-line Advisory sessions to aid those wishing to apply for distinctions. Since these were established in March 2020 they have proved to be very useful to all the potential applicants.

Providing you are in the system, i.e. have applied or are wishing to apply, you can contact David Smith who is the APM administrator. David can be contacted by email at apmonline@thepagb.org.uk. You will then be allocated an advisor from around the country. Alternatively, go to the PAGB website, click on 'Awards', then click on APM Awards Service and complete the form.
Vic Hainsworth, ARPS, DPAGB.
Federation Awards Secretary.
EAF 2019 Exhibition Portfolio
The Portfolio DVD contains all the images accepted for the EAF Exhibition, as a menu driven presentation. Award winning images and those selected to represent the EAF in PAGB Inter-Federation events will be accompanied by a commentary by Colin Southgate FRPS DPAGB.

The Portfolio DVD costs £7.50 and is issued as a disc you can keep. An order form is available HERE. The disc was produced in PC format only with a resolution of 1600 x 1200 pixels
PAGB 2019 Inter-Federation Exhibition Disc
The PAGB Print & PDI Exhibitions are produced on disc which can be obtained for £10.00 and contains some of the best work from around the UK with images that were selected for the Exhibitions. An order form is available HERE, to be completed and returned to Bob Norris.
New Standard Resolution for EAF PDI Competitions
A new Canon WUX500 projector, which can project to a higher resolution, has been purchased. We can therefore adopt the new PAGB standard resolution of 1600px X 1200px for the EAF Championships and the EAF Exhibition. We will continue to accept file sizes of 1400px X 1050px which will project a little smaller on the screen but strongly recommend that smaller file sizes are not used.

More details of the change are available on page 12 of the September 2018 EAF Bulletin